Los newsletters inspiran la nueva app de The Atlantic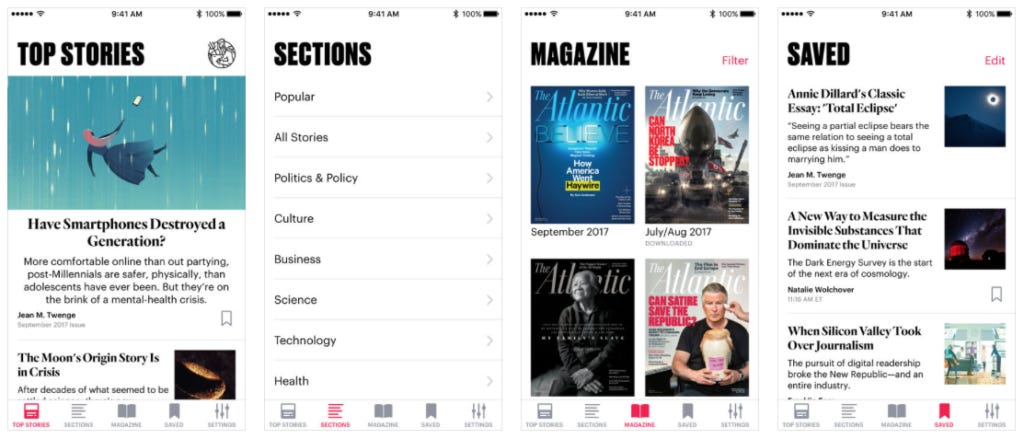 Más calidad menos cantidad. Si algo ofrece un newsletter es la capacidad de curar información para que un lector encuentre solo lo indispensable sin perder tiempo, esfuerzo y datos en tener que navegar de una página a otra. Ese mismo principio es el que guía la nueva app en iOS de The Atlantic
¿De qué modo se inspiró The Atlantic en los newsletters?
En su primera pantalla. Ahí ofrece una curaduría realizada por humanos con las historias más relevantes.

Funciona de manera muy simple. Te recibe con un mensaje según el momento del día en que ingresa el usuario. "Good morning", "Good afternoon, "Good evening" o "Still Awake", seguido de las historias elegidas por sus editores

Los usuarios que quieran acceder a alguno de estos contenidos necesitan pagar, a diferencia del metered paywall en el sitio web de The Atlantic, que permite un consumo gratuito de cinco contenidos al mes

Para The Atlantic, de acuerdo a Nieman Lab, la app es el espacio en el que se reúne su audiencia más leal, con un promedio de al menos tres visitas por semana, de ahí que no les preocupe hundir el tráfico de la app con este cierre.

La suscripción a The Atlantic cuesta 4.99 dólares al mes o 49.99 dólares al año.
The Atlantic dedicó una edición especial de su newsletter a explicar los racionales de sus rediseños en revista, sitio y app